Nissan's One-to-One Rewards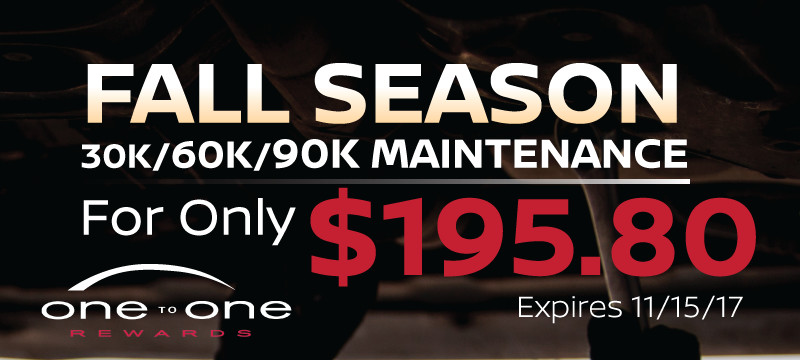 When your standard Nissan factory recommended maintenance is due...
we've got you covered!
The standard 30K/60K/90K maintenance includes:
-

Replace engine oil and filter

- Replace engine air filter
- Replace brake fluid
- Replace in-cabin microfilter

- Rotate tires
Inspect each of the following:
- Automatic transmission fluid
- Axle & suspension parts
- Brake lines & cables
- Brake pads, rotors, drums & linings
- CVT fluid
- Differential oil
- Drive shaft boots
- Engine drive belts
- Exhaust system
- Front suspension ball joints
- Fuel lines & connections
- Fuel tank vapor vent system hoses
- Manual transmission oil (if applicable)
- Propeller shaft (4WD/AWD/RWD)
- Steering gear and linkage
- Steering linkage ball joints & transfer case oil (4WD/AWD)
Upgrade your scheduled maintenance to premium and receive a FREE Nissan rental car and 20 (equivalent to $20) additional reward points.
Only an authorized Nissan dealer offers you these advantages:
- Nissan trained and ASE certified technicians
- Immediate access to warranty service history and Nissan technical information
- Latest diagnostic, special tools, and service techniques
- Genuine Nissan Parts that meet Nissan's demanding standards
- 12 month/12,000 mile parts and labor limited warranty when Genuine Nissan Parts are installed by your dealer
- Lifetime limited warranty on select replacement parts
- Complimentary Multi-Point inspections
The Nissan One-To-One Rewards program is designed to help YOU save money - on the service and parts your vehicle needs, and the accessories you want. That's why we want you to take full advantage of this one-of-a-kind program. Redeem your reward points - and earn more reward points - for as long as you drive.
TO LEARN MORE ABOUT THE ONE TO ONE REWARDS PROGRAM, LOGIN TO www.NissanOneToOneRewards.com. OR, STOP IN TODAY TO FIND OUT HOW YOU CAN START EARNING MORE POINTS AND SAVING MORE MONEY!
*Prices vary for NISMO 370Z, Hybrid Electronic Vehicles (HEV) and NV200 Taxi. Dealer participation may vary. See your Dealer for restrictions on eligible services. Sales points not valid in all states. Point balances subject to available offers. Please see Special Offers at www.NissanOneToOneRewards.com for details. Reward Points are nontransferable, have no independent monetary value and may not be otherwise redeemed for cash, merchandise, or any other benefit outside of those specified under the Nissan One To One Rewards program.